Holly Jolly Holiday Shop
Holly Jolly, is our school holiday gift shop, it provides your students with the opportunity to shop for kid-priced gifts for Mom, Dad, and other members of the family during the holidays in the safe and non-commercial atmosphere of your own school.
Locally Stocked merchandise for quick delivery AND our Pre-programmed Cash Register!! for our "volunteer-friendly price coded merchandise.
We also provide color "Watch For" and "Has Arrived" fliers, Gift Guide Envelopes, Colorful Banners for the school fence, tablecloths, a colorful door panel, beautiful Mylar bags, as well as shopping bags. We provide everything you need for a successful school holiday gift shop!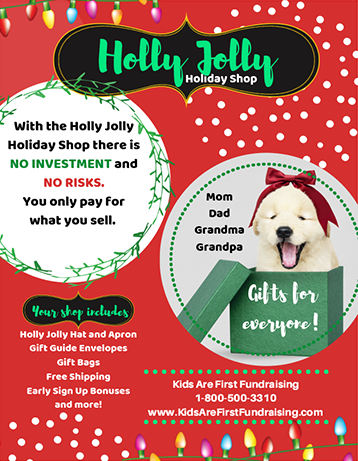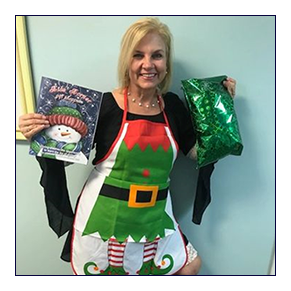 You too can have an Elf Apron!
Holly Jolly offers a variety of wonderful signing bonuses, including banners, color fliers, gift guide envelopes, Mylar bags, Elf Aprons and more! Not to mention all of the "kid-priced" gifts for mom, dad, brothers, sisters, and grandparents. Elevate your school holiday gift shop!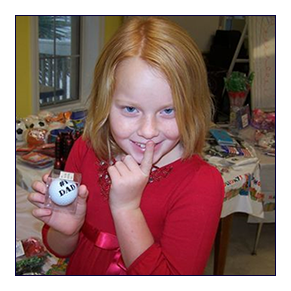 Can you keep a secret?
Keeping a secret until the big day may be the most challenging part of Holly Jolly. Otherwise, Holly Jolly Holiday Shop is so easy with everything you need to have a great shop provided for your school with no risk since all of the gifts are on consignment! This can be a great fundraising event, too!
Get in the spirit when you volunteer!
Holly Jolly Holiday Shop may be the most fun you have at your school while teaching the children "The Joy of Giving". Many schools do Holly Jolly as a service for the children and some schools use it as a fundraiser.
Online Fundraising can be combined with Tradiational or Hybrid Fundraising for school that both students in the classroom and students that are learning from home. We can accomodate for a certain number of brochures to be sent to the school for students to take home, while you send the parent letter with information for online fundraising.
HOW HOLLY JOLLY WORKS
Holly Jolly helps teach children the "Joy of Giving" with treasures that capture the heart!
Holly Jolly Holiday Shop is an in-school holiday gift shop that teaches children that giving is as important as receiving.
It is a NO RISK PROGRAM where you pay only for the items that you sell. With NO INVENTORY to count in or out, volunteers find that Holly Jolly is super simple.
Merchandise may be re-ordered during the sale and will arrive the next day!
Step 1- Choose Your Dates
Our most successful sales run 5 days during school hours. This allows each class the time needed for the children to select the perfect secret gifts for their family and friends.
Step 2 – Select the Prices
Select the Prices that best meet your school's needs. Our gifts are pre-coded for your convenience and with our pre-programmed cash registers, check out is as simple as 1,2,3! Ring it up, place each gift in a beautiful Mylar gift bag and enjoy the smile on each child's face!
Step 3 – Line Up Your Volunteers
Special discounts are available to volunteers who love to see happy children and enjoy the excitement and fun in the holidays.
Step 4 – Your Holly Jolly Holiday Shop Quick Start Kit arrives.
This will include your Success Manual, Full Color "Watch For" Flyers, "Has Arrived" Flyers, Gift Guide Envelopes, and Full Color Posters.
Step 5 – Your Holly Jolly Holiday Shop Product Arrives.
Setting up is exciting as you and your volunteers "oooh" and "ahhh" over the department store quality gifts the children will have to select from. You will also receive your tablecloths, price tents, cash register and other items necessary to provide a wonderful shopping experience for the children in your school.
Step 6 – Return all unsold product to us. We will come pick up from you
Just give us a call and let us know how many boxes you are returning and we will arrange for you returns to be collected at your school.
Step 7 –Closing your shop is a breeze!
Give us a call and we will help calculate your bill and fax over an invoice for your bookkeeper's convenience.
Join us in giving children the opportunity to learn the "Joy of Giving"…THE EASY WAY!